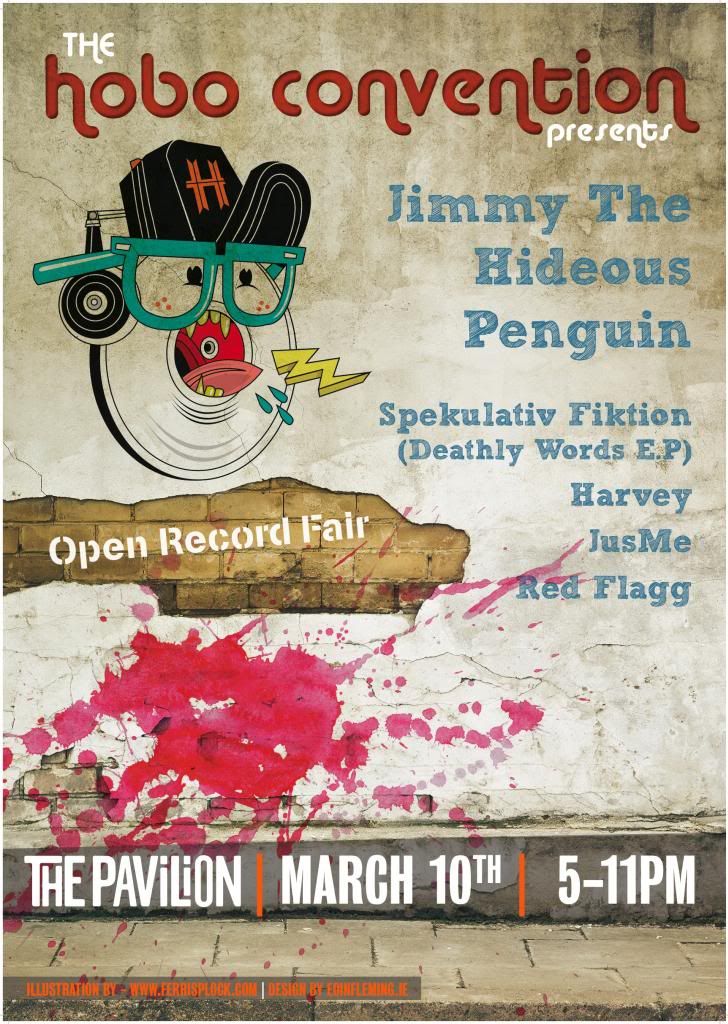 The Community Skratch Games came into being Easter weekend 2007 in the Bierhaus,Galway.
The non profit event's purpose is to further the art of turntable manipulation and raise awareness of HipHop DJ culture,a riposte to the increasing commercialisation and creative cul-de-sac of modern DJ battles. The three or sometimes four day event attracts DJ's, producers and Hip Hop fans from all over Europe.
This years games, ,taking place on the last weekend of March will be the 7th year of what is probably the best weekend of Hip Hop and DJ culture you'll find in Ireland. In celebration and preparation of this years Games we welcome founding member of the Community Skratch Collective Jimmy the Hideous Penguin.
Jimmy The Hideous Penguin is one of Ireland's hidden electronic diamonds. He has a large and varied back catalog of albums, all of which can be found on a "name your price" basis. He makes music that varies between sultry bass heavy electronica, progressive scratch and slow burning ambient tracks richly orchestrated with organic instrumentation. Jimmy has dedicated the best part of the last decade to advancing the possiblities of the turntable as a musical instrument. He's a widely respected and accomplished battle DJ who's turning heads with his unique, musical approach to turntablism. He's also helps run Alkilinear Recordings, an Irish Record Label based in Galway which focuses on releasing a variation of electronic music styles, including Glitch, Ambient, Hip-Hop, IDM, Electro, Dub, Techno and more.
Also joining us on the night is long time supporter, collaborator and all-round good dude Spekulativ Fiktion. The MC/Beatmaker/multi-instrumentalist will be releasing his highly anticipated "Deathly Words" EP on the night which will be available for free download on the day and from then on.
Spek's live show is never anything less than interesting. His mostly improvised sets have been known to incorporate Live beat making, instrumentation, scratching, noise art, props, costumes and random messing.
And its Hobo Con, so I guess that means there will be vinyl for sale while residents Red Flagg, Harvey and JusMe filling the gaps.
10th of March
The Pavilion Bar
5pm - 11pm
Free.